-
Nissan's history goes back to the Kwaishinsha Co
., an automobile factory started by Masujiro Hashimoto in Tokyo's Azabu-Hiroo district in
1911
.
Hashimoto was a pioneer in Japan's automotive industry
at its inception and throughout its initial years of struggle.
-Before the Datsun brand name came into being, an automobile named
the DAT car was built in 1914.
. The DAT corporation had been selling
full size cars
to Japanese consumers under the DAT name since
1914
.
-The new car's name was an acronym of the company's partners' surnames: Kenjiro
D
en, Rokuro
A
oyama, Meitaro
T
akeuchi
-The firm was
renamed Kwaishinsha Motorcar Co. in 1918
, seven years after their establishment and again,
in 1925, to DAT Motorcar Co
.....
-In 1928
, Yoshisuke Aikawa founded the holding company Nippon Sangyo (Japan Industries or Nippon Industries). "-The name
'Nissan'
originated during the 1930s as an abbreviation"[4] used on the Tokyo stock market for
Ni
ppon
San
gyo....
-
1931
first use of
Datsun brand name
Datsun logo:
-Jidosha-Seizo Kabushiki-Kaisha ("Automobile Manufacturing Co., Ltd." in English) was
established on December 26, 1933
, taking over all the operations for manufacturing Datsuns from the automobile division of Tobata Casting Co., Ltd., and its
company name
was
changed to Nissan Motor Co., Ltd. on June 1, 1934
Nissan logo:
-The
first small-size Datsun passenger car
rolled off the assembly line at the
Yokohama Plant in April 1935
, and vehicle
exports to Australia
were also launched that
same year
.
-
1947
Released
Nissan's first electric vehicle "Tama Electric Vehicle.
"
Prvi Nissan električni avto, Tama:
-Nissan built trucks, airplanes, and engines for the Japanese military. Nissan built the
first Patrols in the 1950s
, and were designed for various
purposes
, mainly
military
.
Nissan Patrol: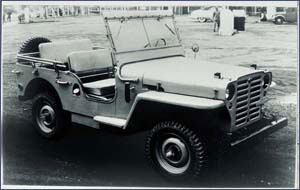 -Nissan concluded a
technical tie-up with Austin Motor Co
., Ltd. of the
U.K. in 1952.
-The
Nissan Silvia CSP311
made its public debut at the Tokyo Motor Show in
September 1964
. Nissan engaged the services of a German designer by the name of Count Albrect Graf Goertz. His work at BMW included the gorgeous 507 convertible.
He then moved to Porsche, where he was part of the design team working on the 911.
In the 1960s he was on his way to Nissan. His first job there was to take over the Silvia project.
Prva Silvia, predhodnik naših Silvij in 200SXov:
-In 1966, Nissan merged with the Prince Motor Company, bringing into its range more upmarket cars, including the Skyline and Gloria....
Infinitijev "očka", Prince:
Prvi GTR:
In 1967
Nissan introduced
its new highly advanced four cylinder overhead cam (OHC) Nissan L engine
, which while similar to Mercedes-Benz OHC designs was a totally new engine designed by Nissan. Then,
in 1969
Nissan introduced the
Datsun 240Z
sports car which used a
six-cylinder variation
of the
L
series
engine
.
L20ET (turbo) motor:
-
Z-car
usually refers to a series of sports cars manufactured by Nissan Motors Ltd.. Sales
started
in Oct. of
1969
...Even with their good looks, reliability, and strong performance, they have been remarkably affordable automobiles. The
Nissan Z
cars also currently hold the
record of best selling sports car series of all time
with around 1,685,000 in five generations.
Z logo, znan že od začetka:
-by 1970 Nissan had become one of the world's largest exporters of automobiles.
-The
Datsun brand was discontinued in March 1986.
The Datsun name is most
famous for the sports cars
referred to as the Fairlady roadsters and later the Fairlady (240Z) coupes....
Fairlady:
-
In 1985
, Nissan created a tuning division,
NISM

O
, for competition and performance development of such cars.
Nismo logo:
-giant Nissan car factory in 1986 in Sunderland, UK. (first Japan factory in UK)
-In 1991 Nissan naredi Symonovega 200SXa, in leto kasneje še njegovega 100NXa, ki prispe v Slovenijo leta 1993 kjer ga istega leta tudi registrirajo.
-
Nissan Micra K11
won the European
Car of the Year
award for
1993
(the
first Japanese car to do so
) and the
Good Design Award
(a Trade and Industry Design award
in Japan
) along with the
Car of the Year Japan award in 1993
.
Micra K11 by Impul (rahlo močnejša verzija, izboljšano podvozje & drugačen bodykit: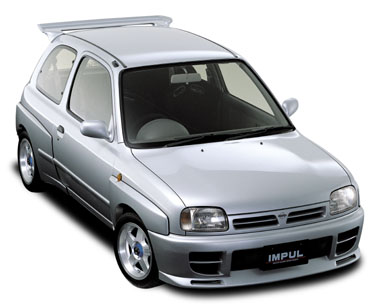 -In 1999, with Nissan facing severe financial difficulties, Nissan entered an alliance with Renault S.A. of France. The
Renault-Nissan Alliance
is a unique group of
two global companies
linked by cross-shareholding, with
Renault
holding
44.3% of Nissan
shares, while
Nissan holds 15%
of (non-voting)
Renault
shares.
Renault Nissan povezava:
-Under president Ghosn's "Nissan Revival Plan" (NRP), the company has rebounded in what many
leading economists
consider to be one of the
most spectacular corporate turnarounds in history
, catapulting Nissan to record profits and a dramatic revitalization of both its Nissan and Infiniti model line-ups. Ghosn and the Nissan turnaround were featured in Japanese manga and popular culture.
Na sliki je Super Carlos ob svojem "otroku" novem GTRu in v manga stripu:
-Nissan is among the top three Asian (also known as the Japanese Big 3 Automakers) rivals of the "Big Three" in the U.S. Currently
they are the third largest Japanese car manufacturer
(Toyota, Honda, Nissan). It also manufactures the Infiniti luxury brand.
Infiniti logo:
In zgodovina se nadaljuje....